Henna Powder
Henna is a natural plant coloring for the hair; made from the powdered leaves of the desert shrub plant, Lawsonia. This powder is finely ground and has a high dye content and has the scent of fresh hay. 100% natural and organically grown. Free from pesticide residues, with no synthetic additives or artificial coloring agents.
Origin: Rajasthan, India
For external use only. 
How to use
Caution: If this is your first time using Henna or hair herb, complete step 1 to create a small amount of mixture and perform a skin patch test on the neck near the scalp. If you feel any irritation, discontinue use. Use Henna mixture with caution as it can stain skin and clothes.
1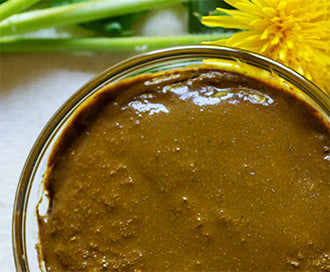 Create Henna Mix
In a metal, ceramic, or glass bowl, slowly mix Henna powder, water, lemon juice, and cooled strongly-brewed tea (or coffee) until it has a wet mashed potato like consistency. The amount of Henna powder and water used depends on length and texture of hair. Cover and let mixture sit for 3 to 6 hours in a warm place until dye release is visible (base the sitting time on the intensity of color desired). Mix again until it becomes a smooth paste with a thick, honey-like consistency.
2
Apply to Hair
Put on disposable gloves and using a hair color brush or tint brush, section hair and apply paste from roots to ends (add any additional essential oils or herbs during this stage). To dye hair brown, add Indigo at this stage to create "Hendigo" mix. If covering gray hair, add Henna first and Indigo second. Cover hair with a plastic cap to preserve moisture and leave on for 3 to 6 hours (base the sitting time on the intensity of color desired). To avoid stains clean skin around hair line and from hands immediately.
3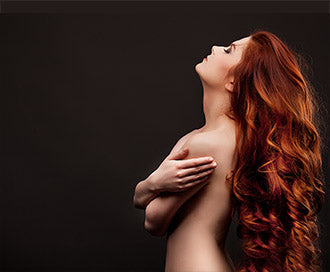 Rinse
Rinse hair under room temperature water until water runs clear. You can massage your favorite conditioner through your hair and rinse again. Style as usual and re-dye as needed.